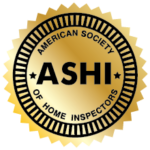 When choosing a home inspector for your real estate purchase, make sure they're certified by the American Society of Home Inspectors. This guarantees you'll be working with professional home inspector who has passed the most rigorous technical examinations in effect today, including inspectors who are required to perform more than 250 professional inspections before they're even allowed to call themselves "certified".  Forming in 1976, the ASHI has been providing it's inspectors with the highest quality home inspection training. ASHI is the most respected professional association for home inspectors in North America.
"Hi Phil, I go the report and the radon test results. Thanks so much for your help I feel like no only do I know what the things are to be aware of in this property, but how to move forward on them." ~ Stephanie
Phil Tatro, owner and president of Four Seasons Property Inspections, Inc., is a certified ASHI Home Inspector, but that's not all. He is also a Lead Instructor at the ASHI School in Denver, teaching others about the proper methods on home inspection. Phil's depth of knowledge and experience in the field of home inspection makes him a perfect choice for you when purchasing a new home.